Members of NPA organized militias and underground mass organization surrendered; Condemn NPA in Samar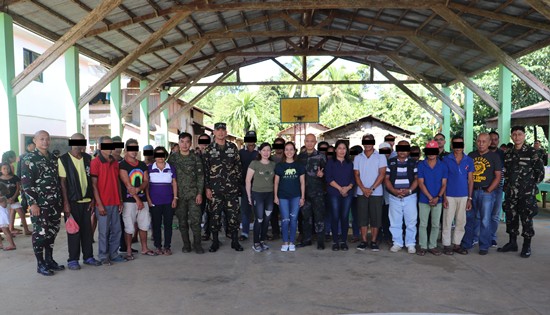 By 14th Infantry Battalion, 8ID PA
December 11, 2018
BRGY. DAO, Oras – On December 08, 2018, twenty three (23) members of Underground Mass Organization (UGMO) and four (4) Milisyang Bayan of the Communists-NPA Terrorists (CNTs) surrendered during Peace Rally at Brgy Concepcion, Paranas, Samar.
Lieutenant Colonel Jimmy V. Jimenez INF (GSC) PA, Commanding Officer, 14th Infantry Battalion, said "The success of the counter-insurgency campaign of the unit in our Area of Operation snowballed into the surrender of NPA members, militias and CNTs UGMO in the red areas and encouraged other communities to take a stand".
LTC Jimenez noted that the collaboration between the unit and the Local Government of Paranas, other government agencies, Non-government Organizations and even the community intensified the Battalion's effort in pressuring the CNTs and the members of UMO that forced them to surrender.
Manolo Labong, Chairman of the CPP-NPA's Sangay ng Partido sa Lokalidad (SPL) UGMO and NPA militias of Brgy Concepcion, said, "Our barangay have been a lair and bastion of New People's Army for almost three (3) decades and we have suffered from their deceit and illegal activities. Today, we were able to free ourselves from their influence and appeal to our fellow to surrender and join the folds of law".
Honorable Atty. Eunice U. Babalcon, Municipal Mayor, Paranas, Samar, who witnessed the Peace Rally along with other municipal government officials, expressed that the surrender of the NPA supporters in Brgy Concepcion will be the start of the clearing of other affected (influenced) barangays in the municipality.
"The role of the community is vital in preventing the resurgence of the influence and presence of CNTs in every barangay and I urge the community in barangay Concepcion and its neighboring barangays to unite and stand for what is the law dictates", Babalcon added.
In order to express their stand against the NPA and to condemn the CNTs deceitful and illegal activities, the community in Brgy Concepcion headed by Brgy Chairman Gaudioso A Misagal conducted peace rally, pledge of allegiance and covenant signing.
"The Battalion will continue its effort to sustain our momentum in shattering and constricting the CNTs Guerilla Base to defeat its armed group operating in Samar to achieve just and lasting peace in our Area of Operation", LTC Jimenez said.