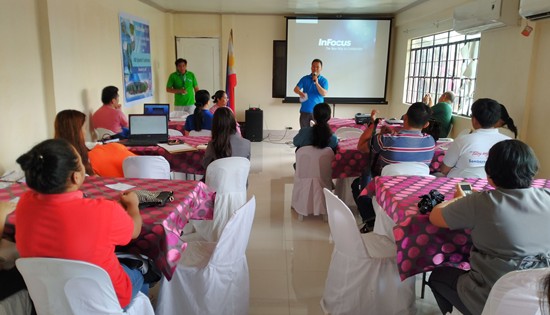 Hon. Brigido Caneja III (blue polo shirt) as he give the participating agencies a motivating speech during the BilComNet Meeting on November 15, 2018.
Biliran Communicators Network (BilComNet) to strengthen information drive in the province
By CARL MARK D. PEDRERA
December 11, 2018
NAVAL, Biliran – The Biliran Communicators Network (BilComNet): A collaboration of Information Officers (IOs) of the Province of Biliran held its 2nd meeting on November 15, 2018 at the Sangguniang Panlalawigan Multi-Function Room to discuss the ratification of the constitution and by-laws of the organization, its function and action plan for 2019.
The said event was attended by IOs from the different government agencies, non-government organizations (NGO's) as well as Government-Owned and Controlled Corporations (GOCC's) hosted by the Department of Public Works and Highways (DPWH) - Biliran District Engineering Office (DEO).
The welcome address was delivered by Hon. Brigido Caneja III, Board Member, 1st District of Biliran. He emphasized, during his speech, the important role of the communicators in the society and as to how a communicator should not be biased towards transparency.
Mr. Rodrigo S. Victoria, Manager of Philippine Information Agency (PIA)-Biliran Provincial Information Office (BPIO) gave the overview of the meeting. One of the main purpose of the association is to have a common point for the news to be delivered as fresh and credible as possible.
After the unification of IOs in Biliran Province through BilComNet on September 18, 2018, the association has already established itself and has set its goals. Through its first elected President, Dionisio B. Oliva, Jr., (Head, Biliran Provincial Tourism & Information Office) and all elected officers, the meeting went smoothly.
Mr. Victoria also encourages his fellow IO's on the idea of enhancing the information sharing and dissemination through text blasting. This kind of information sharing will broaden the target range of the public to receive the information. BilComNet also created a feedback mechanism in which the public can also voice out their opinion towards the information received.
As to further strengthen the information drive of the organization, Mr. Victoria of PIA-Biliran suggested to conduct information caravan around the district. The said information caravan will showcase the services of the participating agency or department in every municipality while conveying relevant information to the public.
"We will conduct a test run for the information caravan on a certain municipality and see how the public will react. If we gain a positive feedback, then we will pursue this activity", Victoria said.
The BilComNet will continue the fight against fake news and will surely upholds its principles to deliver timely, accurate and relevant news/information.