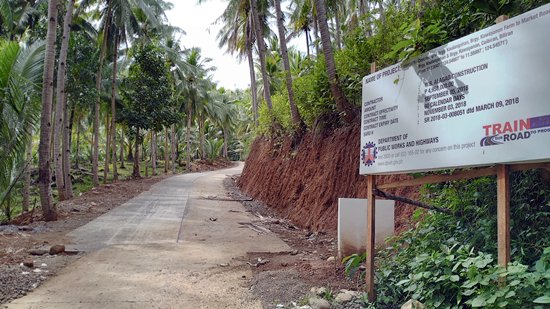 Newly completed Farm-Market Road (FMR) project in Brgy. Kaulangohan and Brgy. Kawayanon in Caibiran, Biliran. The project has a construction cost of P4.9M under contract with W.B. Alagao Construction which involves concrete paving of 500 meters.
Farm-market road (FMR) project in Caibiran town completed
Press Release
December 11, 2018
NAVAL, Biliran – The Department of Public Works and Highways (DPWH) Biliran District Engineering Office (DEO) has completed the Farm-Market Road (FMR) project in Brgy. Kaulangohan going to Brgy. Kawayanon in the town of Caibiran in the Province of Biliran.
The project is under the convergence program of DPWH and the Department of Agriculture (DA) with a length of 500 meters and a width of 5 meters amounting to P5M.
According to David P. Adongay Jr., District Engineer, there is still 400-meter length that needs to be concrete-paved to fully connect the two villages of the said barangay.
The completed FMR project will at least lessen the hilly and bumpy travel of the residents and farmers in transporting their goods to the market center.
Adongay said this project is prioritized due to the potential of the place to produce agricultural crops such as rice, abaca, and copra.
"FMR projects open opportunities for our farmers to increase their agricultural productivity as well as their income", Adongay added.
More or less 2000 residents and farmers will benefit the newly completed road.