DOLE-8 releases 450K livelihood grants to Tacloban City
Press Release
December 6, 2018
TACLOBAN CITY – The Department of Labor and Employment Regional Office VIII has released a total of P450,000.00 livelihood assistance to the local government unit of Tacloban which benefited thirty (30) small-time entrepreneurs and pedicab drivers coming from different barangays of the city.
The P450K grants was the sum of the two approved livelihood projects funded under the DOLE Integrated Livelihood Program (DILP) namely "Small-Scale Resilient Informal Entrepreneurs" and "Resilient Pedicab Drivers of Tacloban City".
Thirteen (13) drivers received their own pedicabs last October 20, 2018 personally awarded by no less than DOLE Secretary Silvestre H. Bello III and DOLE-8 Director Yahya A. Centi during the Inauguration of the newly-renovated DOLE building.
Secretary Bello recognized the efforts of DOLE RO8 as well as its partner, the LGU Tacloban City thru its Public Employment Service Office (PESO) for being facilitative and active in providing livelihood to the deserving beneficiaries.
Mr. Danilo Pido, one of the recipients of pedicab units, was very happy to finally have his own pedicab as his primary source of income.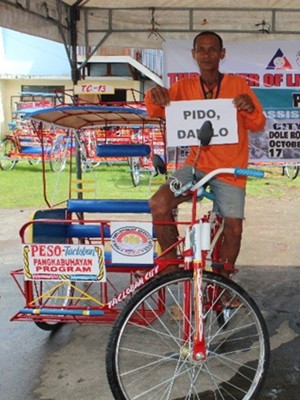 "This pedicab will be very helpful not just to me but for my family. I am thankful to DOLE and LGU-Tacloban for giving me this blessing. Rest assured that I will take care of this pedicab." Pido said (in Waray-waray dialect).
Meanwhile, the nego-cart units were awarded to some seventeen (17) food vendors last November 29, 2018 during a simple turnover ceremony held at Tacloban City Hall Lobby graced by DOLE-8 Assistant Regional Director Atty. Cecilio I. Baleña and Tacloban City PESO Manager, Ms. Emilia Cruz.
Atty. Baleña congratulated all the deserving beneficiaries for their new nego-carts and advised them to give due care to the units.
"DOLE is here to help you have better lives through our livelihood program. Our request is for you to give due care to the nego-cart so that it will really serve its purpose which is to help you earn your own income", said Atty. Baleña during the turnover ceremony.
DOLE Integrated Livelihood Program is DOLE's contribution to the government's agenda of inclusive growth through massive job generation and substantial poverty reduction. The program seeks to reduce the vulnerability to risks of the poor, vulnerable and marginalized workers by providing them access to a grant assistance for capacity-building on livelihood ventures either for individual or group undertakings.