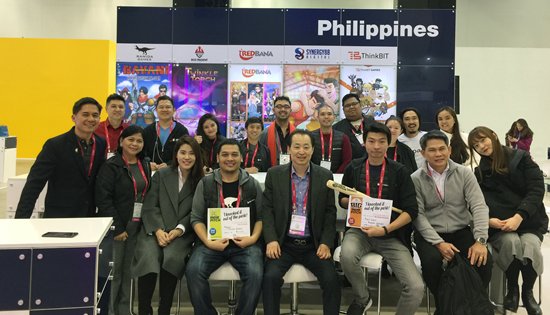 TWO PHILIPPINE ENTRIES WIN AT 2018 G-STAR. The "Brawl Quest" developed by ThinkBit Solutions, led by director Lord Christian Gosingtian (front row, second from left), wins first prize under the mobile game category, while the "Bayani Game" of Ranida Games, headed by Walter Manalo (front row, fourth from left), gets the second prize in the PC game category.
PH game dev't industry shows competitive edge at G-STAR South Korea
By DTI-TIPG-EMB
December 3, 2018
MAKATI CITY – Filipino independent game developers have once again showcased the industry's competitive advantage on a global platform through their participation in the ASEAN Services Exhibition: Global Game Exhibition G-Star 2018 held from November 13-18, 2018 in Busan, South Korea.
Two entries from the Philippine delegation won at the Big Indie Awards competition, which was held on November 17, 2018. The mobile game "Brawl Quest" by ThinkBit and the PC game "Bayani" of Ranida Games won first and second prizes, respectively. Brawl Quest takes inspiration from old arcade "beat 'em ups" such as the "Double Dragon," "Streets of Rage," and "Golden Axe." Its setting and characters are heavily inspired by the modern Philippines pop-culture. On the other hand, Bayani Fighting Game is an indie fighting game drawn from the Philippines' rich and colorful history and culture. Its characters are based on real Philippine heroes, landmarks, and events.
Recognized globally for their work in game development segments, Filipino developers presented homegrown mobile and PC games at this year's G-Star. They were assisted by the Department of Trade and Industry-Export Marketing Bureau (DTI-EMB), Philippine Trade and Investment Center (PTIC) in Korea, Game Development Association of the Philippines, and ASEAN-Korea Center, which provided their inland transfers, accommodation, and booth at the event's ASEAN pavilion.
G-Star 2018 included activities like the ASEAN-Korea cooperation workshop for game development services in Seoul, Korea, as well as exhibitions, business matching activities and meetings, and market sensing of companies in Busan at BEXCO. Ten Philippine companies including the Audacity Studio, Indigo Entertainment, Synergy 88, Gumi Games, Komikasi, Monstronauts, Ranida Games, Redbana, Red Trident, and ThinkBit also participated in the event.
During the mission, the EMB facilitated 175 business matching meetings for the Philippines and its foreign counterparts. The bureau sought to further establish partnerships between Philippine companies and other game developers from South Korea. The mission started with a courtesy call to Consul General Christian De Jesus of the Philippine Embassy in Seoul, Korea and a meeting with Commercial Counsellor Jose Ma. Dinsay of PTIC-Seoul.
The Philippine delegation also participated in the "ASEAN-Korea Business Seminar on Game Industry" at Ibis Styles Ambassador Seoul Yongsan, in Seoul, South Korea, where they presented their company expertise and unique selling proposition.