DTI recognizes most promising MSME brands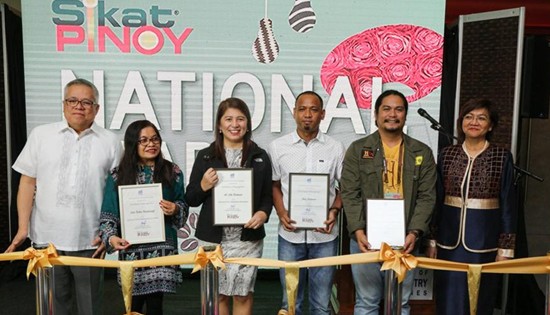 By DTI-OSEC-PRU
August 24, 2018
MANDALUYONG – The Department of Trade and Industry (DTI) awarded four most promising micro, small, and medium enterprise (MSME) brands that exhibited outstanding performance in terms of sales production, social impact, and innovation during the Sikat Pinoy National Trade Fair on 22 August at the SM Megamall.
"Continuous creativity and innovation will help entrepreneurs be successful. And we are proud of these MSMEs who serve as model and inspiration to many aspiring entrepreneurs," said DTI Secretary Ramon Lopez.
The awardees were Jhaz Footwear, Ai-She Footwear, H.H.S. Leather Goods Enterprises, and Lolo Bobby Handicraft. As start-ups, they joined DTI's provincial, regional, and national trade fairs, managing to raise the visibility and awareness of their products and brands among institutional buyers and the general public.
Unique feel in quality footwear
Jhaz Footwear started with a young couple, Nepthali and Elvira Moneda from Liliw, Laguna, who resold slippers made by their neighbors. They used to bring the slippers and sell them in various towns during fiestas and festivities. After two years, the couple put up their own footwear brand and started to become a supplier to various stores in the area.
Their small business received assistance from DTI via training, product development, and management. They were also invited to participate in domestic trade fairs and abroad. Their footwear brand offers different types of espadrilles, wedges, clogs, flats, heeled shoes, and even school shoes. They supply footwear apparel to retail stores throughout the country, as well as in Japan and Italy.
Meanwhile, Ai-She Footwear's owner Corazon Coligado started making her own shoes in a small nipa hut in Liliw, Laguna. As an initial marketing plan, she gave out samples of new and trendy footwear to various retail stores outside their area. This strategy paved the way for her footwear to be patronized by a significant number of clients.
Ai-She Footwear then received an invitation from DTI to join the Calambanga Festival. The Department also invited them to regional and national trade fairs wherein they received an export order to Panama for 5,000 pairs of shoes. DTI also brought Ai-She Footwear to international trade fairs, leading their products to be exported. Currently, they are one of the suppliers of the leading malls in the country. Their shoes are also exported to Japan and Papua New Guinea.
Differently abled, but empowered
Handcrafted by Harl's (H.H.S. Leather Goods Enterprises) from San Pedro, Laguna engages in the production of innovative genuine leather products. It was established in 2014 to promote the local artistry and craftsmanship. Their products are handmade by differently abled artisans and underprivileged craftsmen. The company's product collection includes bags, sandals, wallets, coin purses, cell phone cases, gadget organizers, bracelets, guitar leather cases, straps, leather accessories, and souvenir items.
With their advocacy and quality products, the enterprise was invited by DTI to participate at the Manila FAME where their products gained more followers.
Design vision to help Filipino farmers
Lolo Bobby Handicrafts started as a producer of placemats made from coconut shells in Bato, Leyte. They were one of the recipients of product development assistance from DTI and the Comprehensive Agrarian Reform Program initiative.
The assistance from DTI continued with various trade fair invitations, which helped them gain market access and exposure for their products. They also took part in the different product clinics by the Design Center of the Philippines that enabled them to craft high quality components of fashion accessories and housewares. They support local farmers by sourcing their raw materials from the Agrarian Reform Community in their locality. Lolo Bobby Handicrafts has been a regular participant to the Manila FAME and indirectly exports their products to Japan and Australia markets.
Sikat Pinoy
The annual Sikat Pinoy National Trade Fair is one of the programs of DTI that provides market access to various MSMEs and their products. Last year's run had over 122,000 visitors for its three editions. The events generated P57M-worth of retail sales and P52M-worth of booked and negotiated orders.
"Empowering our MSMEs allow us to empower the nation. President Rodrigo Duterte and his administration will continue all market access programs as well as MSME assistance to encourage more Filipinos to join the entrepreneurial revolution, creating a much-needed economic growth that benefits all, especially those at the bottom of the pyramid," Sec. Lopez said.
This year's edition gathers over 250 MSMEs from all over the country and showcases One Town One Product (OTOP) Next Generation products such as gifts, houseware and décor, fashion accessories and wearables, furniture, specialty food, and health and wellness products. A special area also features green, organic, eco-friendly, fair-trade compliant, and halal-certified products. The fair will run until 26 August 2018 at SM Megamall.