Eastern Visayas partylist leader backs National ID system
By RONALD O. REYES
August 24, 2018
TACLOBAN CITY – The enactment into law of the Philippine Identification System Act got the support of Jude Acidre, the first nominee of Tingog Sinirangan party-list in Eastern Visayas region.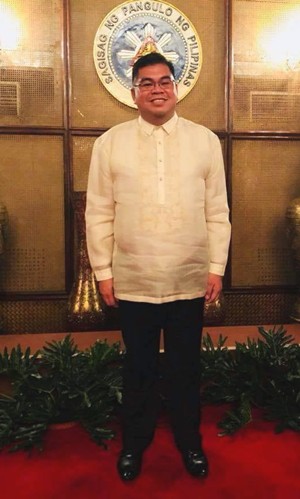 "It is good that finally, the National ID System Act has been signed into a law. This law has also been on the legislative agenda of Tingog Sinirangan," said Acidre while thanking Leyte First District Rep Yedda Romualdez who was one of the co-authors of the law which was signed by President Rodrigo Duterte on August 6.
"There are privacy concerns regarding this law, but it is important to note there are probably more personal information shared on Facebook than what would end up in your National ID," he reasoned out.
Acidre said that he has been hoping for Filipinos to have their own National ID card.
"Not only for the convenience of a portable proof of identity, but more so because it becomes a tangible marker of citizenship. In fact, a significant number of Filipinos do not have birth certificates, or have yet to be registered with the local civil registry. In a way, they have yet to be 'counted' and oftentimes, they have to wait until school age before they finally are issued a birth certificate," he said.
Acidre, who is married to a Thai national, maintained that having a national ID makes every transaction that requires a proof of identity seamless and convenient, as what he experienced in Thailand.
"My wife, who is a Thai national, always carries with her a National ID card. Everyday she presents it for a number of transactions – from making a money transfer, boarding a plane, applying for a passport, paying taxes, opening a bank account and even buying a sim card. I remember when we had to register our marriage, I had to bring about five documents that took me weeks to process, while all she had to do was bring her National ID," recalled Acidre, adding that the National ID card cuts additional processing or waiting time.
During the signing of the Republic Act 11055 or Philippine Identification System Act, Duterte said that there is "no basis at all for the apprehensions about the Phil-ID, unless of course that fear is based on anything that borders to illegal."
Under the national ID law, the Philippine Statistics Authority (PSA) will maintain a centralized database of all Filipino citizens and resident aliens which include the information on name, sex, birthdate, address, citizenship and blood type. The government also assured on the security of the information.
The information registered in the National ID would be the same record history indicated in government-issued IDs like Home Development Mutual Fund or Pag-IBIG Fund, Commission on Elections, Government Service Insurance System, and Philhealth card.
The National ID System would eliminate the presentation of multiple IDs and ease up the government transaction as it cuts the bureaucratic red tape, Acidre said.
"For every official or business transaction, we are often asked to present two or more government-issued IDs. The funny experience sometimes is that you will be asked two or more government-issued IDs to apply for a government-issued ID that at times it ends up like a chicken-and-egg-thing," said Acidre as he described the inconvenience in the Philippines having no National ID System.